Welcome to Warren Rupp Oservatory...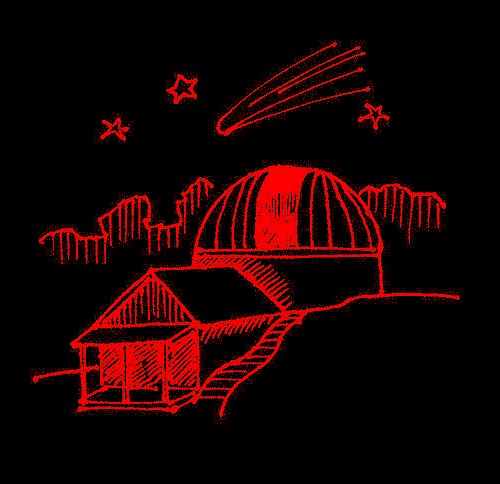 Warren Rupp Observatory is one of the world's largest amateur operated telescopes. Nestled in the pastoral setting of Hidden Hollow, near Mansfield, Ohio we boast of some of the darkest skies in the state. The Rupp Scope and the Richland Astronomical Society dedicate themselves to public awareness of Astronomy.
All 2015 Public Nights will be held on the first Saturday of each month (unless otherwise noted), March through November and special programs and member nights are offered on alternative weekends. Be sure to check our events and calendar. If weather permits, there will be an opportunity to view through the big scope as well as a variety of personal scopes. If weather is cloudy, there will be a program and folks who will be happy to take you on a tour of our Observatory. We welcome all visitors! Not only will you have access to view through this magnificent scope, but our members also have a variety of telescopes to help assist you on your celestial journey. Please feel free to also bring your own equipment as well.
If you will be traveling in the area, you are also welcome to visit the observatory by appointment by letting
Mike
know. Members of the RAS must please contact the Observatory Director via the Bulletinboard link on the left to reserve telescope time. If you are interested in visiting the Observatory for an outreach program, or having us come and visit your group or school, please click on the Request A Program link to the left. Fill out all requested information and we will be in touch with you to finalize arangements.
Winter is over, so we are now OPEN for 2015!
Please check the WRO Calendar for dates, times and locations.
Join us for Lowe-Volk Park Observing.
Lowe-Volk Park is 38 acres in size and features an award-winning Nature Center, one and one-half miles of hiking trails that visit three streams including the start of the Sandusky River in Ohio, a picnic area, catch and release fishing in the pond, fishing in the streams, fern covered sandstone ledges, forests, wetlands, a pond, and open fields. The Lowe-Volk Park Nature Center features a classroom, 17 interpretive nature and local history exhibits, live reptile and amphibian displays, a bird feeder and butterfly garden observation room, and equipment for student use in programs such as binoculars, nets, hand lenses, etc. The park is located on State Route 598 three miles north of Galion. The Nature Center is handicapped accessible and has restrooms available.

Lowe-Volk Park Observing is the third Saturday of each month, and observing closes in November and re-opens in March, so check our calendar for news of stargazing opportunities!
From Starfleet Command...

Captain's Log - Stardate: April 2, 2015 - New update coming soon! See you on the Hill!~Cap'n Mike
Our Newsletter...

If you want to keep up with all the happenings, like who has completed what observing project, is attending classes, or just has something new to say? This is your resource. If you weren't able to attend a regular club meeting and would like to know what's going on? Here's where you'll find it. Wondering if we've gotten any new club members? This is where we post 'em. Do you have an article, idea or astrophoto you'd like to post? Then this is the place to go!

The M111 On-Line is your #1 resource for finding out all the news that is the news. Use it!
Help Support the Observatory...
Would you like to take a look at what's out there? How about donating to a worthy cause at the same time? Here at WRO, we believe education should be free, so we don't charge for giving programs. However, there are many expenses involved in maintaining a facility and we deeply appreciate your donations.
If you can't come to the Observatory, but would like to add your support through a charitable donation, you can do so through the use of PayPal. Just click on the link below and give any amount you wish. Just specifiy that it is a donation in the comment field on the PayPal page. We appreciate your kindness, support and thank you in advance for helping WRO continuing this important work!
WRO members, you can now pay your yearly dues by clicking on the PayPal button above. Indicate that you are paying $43.00, the ammount is dues plus a $3.00 PayPal processing fee. Please indicate that this is for your yearly dues in the comment field on the PayPal page.
Thank you,
Bob Kocar,
Treasurer, WRO.
Educational Programs...

Here at Warren Rupp Observatory, we are proud to offer entertaining astronomical education as part of our normal public star parties each month. Here you will find out more about our solar system, black holes, supernovae, space missions, the Sun, the Moon, comets, meteors, the distant galaxies and much, much more. We vary our presentation each time so that everyone has a chance to learn something new and all programs are suitable for children and adults alike.

Do you have a group or organization that you feel would benefit from a special program? Please feel free to contact us to make special arrangements. We enjoy traveling to schools and libraries - just as much as we enjoy having your group come here as well! All it takes is just a little prior arrangement.

As always, there is never a charge for any program we do. All of our members, educators and presenters are strictly volunteer and we do what we do because we love to do it. Of course, we always welcome donations. Old telescopes that need a loving home are re-furbished and put into the hands of our guests. Astronomy books, space related toys and educational videos are among the many things we need... And share! We're here for you year round!
Join Us For A Great Time!
Are you interested in visiting? Good! Please come and visit us during the summer months. You'll have a great time!



Warren Rupp Observatory
5127 Possum Run Road
Bellville , Ohio
www.wro.org

Public Nights Open At Sunset
Current Moon Phase
What does the Moon look like tonight? Here you go...


The Clear Sky Clock...
To help you plan your observing session, or to just get an idea of what to expect as far as the sky goes, here's a device that only takes a little bit of practice to learn how to read. The Clear Sky Clock goes by colors to show you what kind of conditions to expect. To learn more, just click!